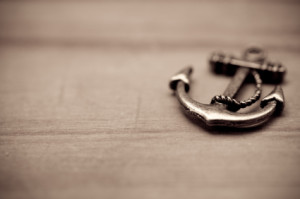 Let understand the Types of Anchor Text.
In the early days of SEO, webmasters discovered that using keywords as the anchor texts in backlinks can help their websites rank higher in SERP for those keywords.  And Google, being unable to manually check what every page is about, relied on those signals. Later on, just like many other past SEO techniques, this one became abused and resulted in SEOs creating links, featuring targeted anchor texts on a commercial scale.
Anchor Text and Penguin updates
Rolled out a month ago, Penguin 2.0 is now widely discussed in the SEO community. At this point there's not enough data to state that any particular SEO technique is on radar more than the rest. Yet, the current update's predecessor, Penguin 1.0, has become notorious for its focus on anchor text diversity.
Last year Google devalued backlinks of the websites which excessively used promotional keywords as anchors and placed links on spammy websites. This is how the diversification, mixing of anchor text and backlinks quality became vital.
We believe they are still vital, so we carried out a research to see which be Types of Anchor Text.
Other industry research on anchor text diversity
Several types of research were carried out to check whether sites that experienced rankings drop after the Penguin update also had over-optimized anchor texts vs. a more natural mix of anchors. According to some of them, the percentage of "money keywords" in anchors should not exceed 60%, 35%, 25%, 10%, etc. It doesn't mean you should not use a keyword more than once, it just means that you should not just rotate 1-5 "money keywords" in 100% of the links you acquire.
Our research on anchor text diversity
To find out what kind of anchor texts work in a long-term perspective and in what proportion, we selected rather competitive keywords like, for example, "quick weight loss", "real estate for sale", "cheap hotels", "web design company", checked which websites rank #1-2 for these keywords after the Penguin 1.0 update and classified their anchor texts by the following types:
Brand name/Brand-keyword hybrid

Exact match

Partial and broad match

Non-descriptive

URLs

Anchors in foreign languages

Empty alt texts in linking images

Other (completely different from the targeted keyword)
Note: we used Rank Tracker to check rankings and SEO SpyGlass to find backlinks and classify anchor texts.
The positions were checked in three stages: Types of Anchor Text
1. May 2012 (when webmasters experienced Penguin 1.0 consequences)
2. January 2013 (when Penguin 1.0 settled down and those who "deserved" punishment, got it).
3. June 2013 (we ran an extra check before publishing this article to ensure the data is relevant; very little deviation was found compared to January 2013).
As experts in the industry observe, adopting brand and domain names which are actually capitalized keywords used to be a trend a while ago.
"When the internet boomed, many companies adopted names that would capitalize on industry keywords i.e. www.Londonseocompany.com whose branded anchor text may legitimately read something like; "Find out more about London SEO Company". Boom, there you've used your company/brand name, which could also happen when sites naturally link to them."
We also came across such domain names as smoking-cessation.org, which ranked #1 for "smoking cessation" even after the EMD update,   and quickweightloss.net, still ranking for "quick weight loss". Due to this, in some cases, it was hard or impossible to determine if the anchor features exact match text or just a brand name. We classified them as exact match keywords.
See the major takeaways below:
EMDs use up to 70% of exact-matching anchors without penalty
Several websites, where the brand and the domain names were congruent with the "money keyword", have up to 70% of such exact-match "money" anchors (thus proving that over 60% of "money keywords" in anchors does not necessarily lead to the rankings drop; probably there's an allowance for EMDs and brand names).
Non-EMDs use only 1-3% of exact-match anchors
If targeted "money" keywords are different from the domain and brand names, the number of exact-matching anchors is low and equals 1-3%. It's worth mentioning that most of the websites successfully implement the diversification strategy, mixing targeted keywords with synonyms. Due to that, the number of partially-matching anchors, anchors with synonyms and long-tail keywords was up to 50% across all websites. Alternatively, when domain and brand names did not match "money" keywords, the percentage of inbound links with the brand name as anchor ranged from 1 to 7%.
Naked URLs are widely used as anchors
The number of naked URLs in anchors ranged from 2 to 15%. Large numbers (15-35%) of URLs as anchors were used by websites with famous and recognizable brands like, for example, namecheap.com (40% of URLs in anchors), hotels.com (about 53%) and smoking-cessation.com (90%).
Non-descriptive anchors are rare
The number of non-descriptive anchors was rather low across all websites ranging from 2 to 5%.
Anchors in other languages is the minor type
The quantity of keyword in other languages ranged from 0.2% to 0.8% per domain.
Average distribution of anchor texts across websites ranking #1 for competitive keywords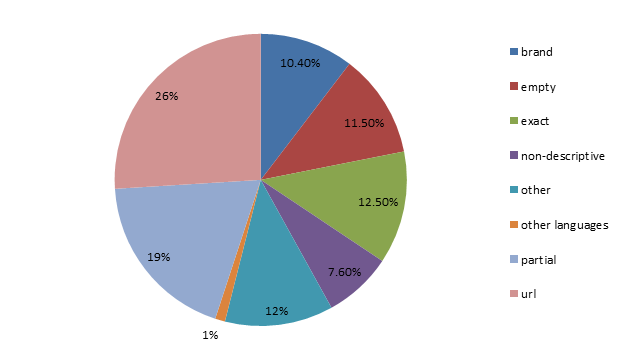 Based on the research results, below are the different anchor texts to use if you want to be on the safe side:
1. Partially matching and long-tail keywords (you can even use long-long tail keywords, like articles or pages titles, e.g. "Best Current Fixed 10-Year Mortgage Rates + Refinance Rates" or "Quick Weight Loss Program – Healthy, Easy, Fast Weight Loss"; if your targeted keyword is "mortgage calculator", you can also use: "calculate your mortgage", "bad credit mortgage loans", etc.)
2. Anchors with synonyms. If you want to rank for "cheap hotels", also use "cheap hotel deals", "cheap hotel prices", "discount hotels", "hotel deals", "lodging", etc.
3. All variations of naked URLs: www.example.com, example.com, Example.com, EXAMPLE.COM, http://www.example.com.
4. Non-descriptive anchor texts. As they are not widely used at the moment, check the list below to diversify your anchors:
The website, visit the website to learn more

view publisher site

click here to visit the website, here

Watch the video

video

Click here to download

click here for details/for more info

Click here to view the source of the post

Article

Source

View source

Learn more

Read more

find out more

Detailed info here

more details

See survey results

Go to [URL]/ brand website

Details
5. If your website is multi-language, use anchors in other languages ("Página de Internet:", "Registo de Domínios").
6. Brand name or brand-keyword hybrids. ("Traffic Travis free keyword tool", "Namecheap – hosting and domains", "Domain registrar – NameCheap", etc.).
7. Image links with optimized alt text. Alt texts in image links are also a ranking factor, but alongside filling alt texts with "money keywords" only, use such alt texts as [banner], "example.com" or leave them empty.
Bottom line
This research provides a snapshot of the anchor types' distribution across different niches. The use of provided methods will not only help you avoid Google flag but will also make your SEO strategy more stable in the long run.
Thank you for reading the article Types of Anchor Text. Stay Tuned for more updates!!